Happy Valentine's Day!!
ONE:
Or as it's otherwise known to me:
"Singles Awareness Day"
! Was there really any doubt I'd include this today?!? Since I have no boyfriend to celebrate with, I thought I would show you what I will be celebrating with:
This is my FAVE!
Hope everyone has a fabulous night...enjoy your loves!!
TWO:
The Olympics
Image via
NBC Olympics
...great site!
I didn't include the Olympics in last week's 5, but since the Opening Ceremonies last Friday night, I have been watching and keeping up with them daily. Figure skating used to be my top sport in the Winter Games (I love all things swimming in the Summer!), but this year I am enjoying the snow sports. I can't believe how fast they go on those skis, snowboards, luges, bobsleds, etc. If they wipe out, hit walls, or crash, I find myself yelling at my TV! (Side note: Congrats to the American men for sweeping the Slope Style event!) All the stories of the athletes and behind the scenes action is fun, too! In
yesterday's post
, I talked about one of the more heartwarming stories to come out of this year's games.
And can I just say,
GET WELL SOON BOB COSTAS!
THREE:
House of Cards
The second season is online TODAY!! So actually, not only will I be celebrating Valentine's Day with wine, I'll also be watching this! I originally saw this advertised on Netflix when I went to watch Orange is the New Black, which didn't end up being for me. I tried House of Cards instead, and was hooked within the first 10 minutes. I may or may not have binge-watched the first season for thirteen hours straight! It's THAT good! The show stars Kevin Spacey and Robin Wright. Both of them, and the show itself, were nominated for Emmy Awards last year- the first ever for a web-only series! And in January, Robin Wright won the Golden Globe for Lead Actress.
It's called a political drama, but it's so much more!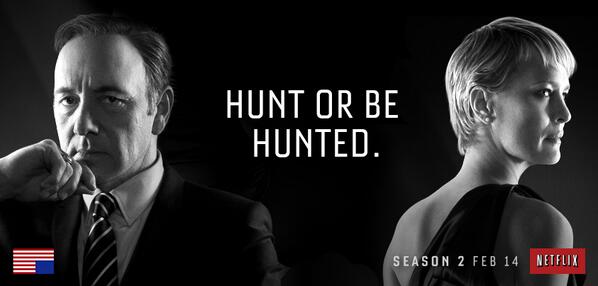 Marie Miller
Anyone who knows me, knows I'm a hardcore country music fan. 99% of the music I listen to is country. This week my sister introduced me to a new artist,
Marie Miller
. A singer/songwriter with more of folksy sound...a cousin of country! ;). I told my sister I had never heard of her. She told me I knew her song
You're Not Alone
, which after I heard, I did recognize (I think from a show)! The song I'm really loving right now though is 6'2.





FIVE:
I'll leave you with this...
33 days 'til SPRING!!
Thank you! Enough already with this snow! I'm close to picking up and moving to Mexico! HA!
I was going to write about the snow but I just can't anymore!
It's the weekend! Make it a great one...whatever you do!
Katie